Alpine Mountain Village
Alpine Mountain Village resort is a selection of luxury cabins in the Smoky Mountains with a great mountain feel and located so incredibly close to Pigeon Forge you can almost reach out and touch it.
At its closest end, the resort is no more than 400 yards away from Parkway! And yet shielded by the natural contours of the foothills terrain, it's also quite secluded. Perfect!
---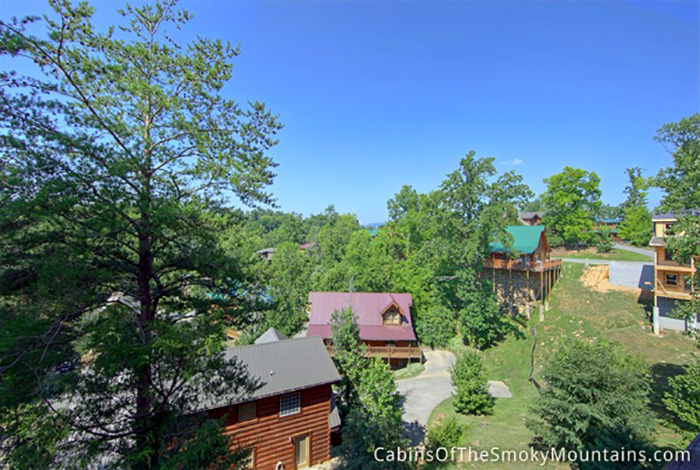 ---
Alpine Mountain Village…Where Luxury Meets the Mountains.
Alpine Mountain Village is a clean and neatly landscaped resort with a very nice community pool, a playground, a covered picnic pavilion and its own paved walking trails, nicely shaded by trees. It's a nice place simply to hang out in, and there's also an on-site wedding chapel - so you could propose, get married and enjoy your honeymoon all without leaving the resort!
However, leaving is easy with Parkway just a half-mile drive away. In a crowded area with lots of visitor traffic, this proximity might be important to you. The resort is situated at the north end of Teaster Lane, offering an off-Parkway route south to countless attractions.
You can even go east to Veterans Boulevard - that great shortcut road - to head down to Gatlinburg or the national park. Alternately, hit Parkway for a few lights and take the Wears Valley road towards the Cades Cove end of the park.
With cabins ranging in size from the cozy romantic getaway to the family reunion or business group gathering, Alpine Mountain Village offers a secluded mountain vibe with unlimited access to the area's abundant attractions literally minutes away - and with no severe road conditions to navigate to get into town and back.
For the most part, the cabins of Alpine Mountain Village are fairly close together, but as always with Smoky Mountain cabins, the setting is such that you can feel in your own world in your cabin. Usually cabins have adequate parking (check before booking), and guests have reported they feel safe here.
Most of the cabins do not have the stunning mountain vistas that other areas possess (a few do), so be prepared for a forested mountain feel to your home away from home - the resort generally has a wilderness quiet to it.
All the cabins offer the type of luxury amenities that are standard for the Smoky Mountains, such as hot tubs, fully equipped kitchens, washer/dryer, Internet, games and entertainments - but always check through your list as you select your cabin (since many cabins in resorts are individually owned, sometimes the standard can lapse from cabin to cabin).
And some cabins are pet friendly too, for that indispensable family member.
Jump start your next vacation to the Smoky Mountains by giving us a call at 866-792 2246 or locally at 865-277-1161. Let us make your next vacation one to remember.
---
Tap on row for more cabin info.